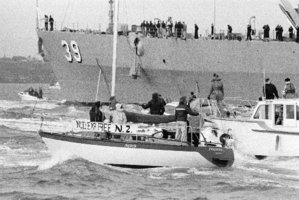 The man who set the wheels in motion for a nuclear-free New Zealand has died.
Larry Ross died yesterday at Princess Margaret Hospital in Christchurch aged 84, following a stroke earlier in the month.
Mr Ross established the New Zealand Nuclear Weapon Free Zone Committee in 1981.
He then coordinated a campaign around the country to achieve 105 nuclear free zones at a local council level.
"That provided the necessary foundation of support for the central government policy of a New Zealand Nuclear Weapon Free Zone in the 1984 election," the Peace Foundation said.
Mr Ross emigrated from Canada to Christchurch in 1962 with his wife Shirley and six children.
He continued working at the New Zealand Nuclear Peacemaking Association until 2007 when he was forced to retire due to illness. He leaves behind his children Laurel, Gregory, Kathy, Mark and Darrell, as well as grandchildren and great grandchildren.
A funeral for Mr Ross will be held at the Baptist Church on Bacairn Street in Christchurch on Monday.
- APNZ