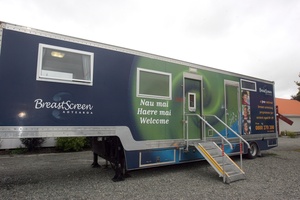 A Ministry of Health investigation has cleared Southern District Health Board's breast screening programme of concerns its rate of "false negatives" was unacceptably high.
The investigation of BreastScreen HealthCare was launched last month after a clinical audit suggested delays in diagnosing cancer in 28 women between 2007 and 2010.
"The mammograms were re-read by an expert group, and it was found that the false negative rate was at an acceptable rate," a ministry statement said yesterday.
However, extra support put in place when the urgent investigation was launched would continue.
Screens would get their second reading off-site, and external radiologists would provide oversight at assessment clinics, Ministry of Health chief medical officer Dr Don Mackie said.
Women could have confidence in the service, he said.
Assessment clinics would return to Southern after being outsourced to Canterbury throughout the investigation, Dr Mackie said.
The Dunedin site had just one radiologist working on the screening programme; Invercargill had two, Dr Mackie said.
Dunedin had had a radiologist vacancy for several months.
Dr Mackie said he believed one of the 28 women had died.
The other 27 were "alive and well" after receiving treatment.
"Eliminating false negatives is always going to be a really difficult thing with screening programmes."
The Otago-Southland service had screened about 32,000 women in the past two years.
It was "reassuring" to note the South did not have a higher rate of interval cancers - cancers which form between screens - than other parts of the country.
The urgent investigation findings had been added to the results of a routine three-year audit, up to November 2011, which also made recommendations for improving the service.
Southern DHB chief medical officer (Otago) Richard Bunton said while the service had been "vindicated", the DHB took seriously the need to recruit more radiology staff.
"It does highlight the fact that being one of the smaller programmes that we are vulnerable as regards to staffing."
Retired Dunedin breast surgeon Stephen Packer had recently been appointed interim clinical leader of the breast screening programme, he said.