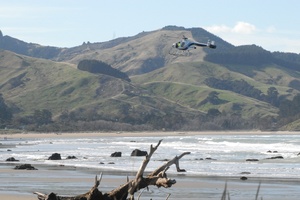 The Akitio community is hoping the family of missing swimmer Eroni Ravaga-Gaunavou will arrive in the country later this week, as search parties continue to look for him.
Mr Ravaga-Gaunavou, 22, went missing off Akitio Beach on Monday afternoon while swimming with friends. Originally from Fiji, he was playing rugby for Puketoi and had recently been selected to play for Wairarapa-Bush.
Puketoi committee member Marty Hull said there had been a hold-up with the passports to get Mr Ravaga-Gaunavou's immediate family brought over. This included his parents, a brother who is about 20 and a sister thought to be about 11.
Mr Hull said the hold-up was with the immigration department and though it may have been easier just to get passports for just the parents, the community wanted the the rest of the family there too. Wairarapa MP John Hayes is helping with the cause, and they hoped to have the family here later this week.
"We really hope they're going to be here by Thursday," said Mr Hull.
He said they planned to take a school bus to the airport to meet them, to offer support to the family upon arrival. They will then be taken back to the beach where the Akitio Boating Club and another house are being used as a base for the search. Meanwhile, the search is continuing for Mr Ravaga-Gaunavou and volunteers are working to a roster system.
The once-a-day searches are being conducted at low tide, and extend about 15km either side of where he went missing and a helicopter is being used. Police called off the official search last weekend after a week at the beach. "I don't really think we can do much more than we've been doing," Mr Hull said.
He said they will re-evaluate whether to keep searching for Mr Ravaga-Gaunavou on Sunday.
For more articles from this region, go to Wairarapa Times-Age