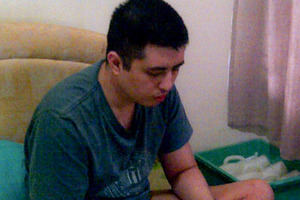 An Indonesian mother accused of keeping her intellectually disabled New Zealand son chained to a bed to prevent him from being returned here, says she loves him and no one else knows how she takes care of him.
Yuhanie Marisa Latinia, who has five adult children with her former husband, New Zealand businessman David Donaldson, refuses to let go of 26-year-old Simon, even though he is an overstayer in Indonesia and a New Zealand citizen.
Simon has leukodystrophy, which causes deteriorating motor skills and bouts of dementia. His family say he has little education and a poor quality of life in Indonesia. They want him brought to New Zealand.
Simon's father was awarded sole custody of the couple's children 20 years ago when they separated.
According to Mr Donaldson and some of his other children, Simon is being held at his mother's home in the East Java city of Surabaya against his will and chained to a bed.
She refused to hand him over to Indonesian immigration officials and New Zealand embassy officials when they visited her house last week.
Ms Yuhanie has demanded more than $6 million for Simon's release, saying his sickness is the result of magic brought about by her ex-husband and that he should pay.
The Donaldson family have asked Prime Minister John Key, who is in Indonesia this week on a trade mission, to step in and help free him.
They want Simon to be with his brother Robin, who also has the disease. He lives in care in New Plymouth and his condition is improving.
Ms Yuhanie, who has had Simon since he asked to live with her eight years ago, said yesterday she was willing to explain everything but only in person at her home.
"If you are interested in the story and you want to know the truth, you come Indonesia and talk to us."
She said that New Zealand embassy officials had been at her house last Thursday and that she had refused to hand over her son.
Ms Yuhanie said she deserved more than the $6 million she was demanding after what her former husband had done to her. She wouldn't divulge what he had done but said she wouldn't trust anyone from his side of the family.
Mr Key said yesterday that the case was very sad. "The young man's obviously in need of help. The embassy here's been working jointly with the family and the authorities to try and provide that support and help.
"He is a New Zealand citizen so he, technically and legally, is able to come back to New Zealand and get medical support.
"We are working on the issue but like all these consular issues, they're very complex. I don't think it's necessary to raise it with the President [Susilo Bambang Yudhoyono]. Really he's at a different level."