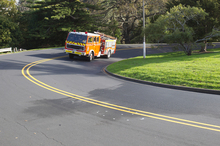 Police have named the 18-year-old who died in a longboarding accident during a downhill skateboarding competition in Auckland yesterday.
University student James Robert Eising died after he lost control of his board while travelling at about 40km/h on Colonial Rd, a steep and windy road in Birkenhead on the North Shore.
He flipped mid-air and plummeted head-first onto the road in front of dozens of onlookers.
Mr Eising, who had been wearing a helmet, gloves and safety padding on his knees, was declared dead eight minutes later.
His parents from Mt Eden had driven him to the event and returned from getting a coffee shortly after the accident. They stayed with his body until it was taken away.
Organisers of the race, which attracted about 200 participants, had arranged a permit to close the road, which is popular with longboarders.
- APNZ