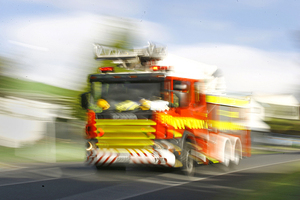 A Northland scrub fire believed to have been deliberately lit by people setting off emergency flares has been brought under control.
The blaze on the top of a hill near Pataua South Rd, about 26km east of Whangarei, was reported by numerous witnesses at about 10.40am today.
Locals reported the fire had been deliberately lit, Fire Service northern communications shift manager Jaron Phillips said.
"It's believed to have been set off by flares that have been fired into the scrub.''
A helicopter with a monsoon bucket had to be called in to battle the blaze due to the difficulty reaching the hill.
Fire crews had attempted to get to the fire by four-wheel-drive vehicles and by foot but were unable to, Mr Phillips said.
"There's not a lot we can do still just from the ground because we can't access the fire, so we're just really reliant on the helicopter to extinguish it.''
The fire, which grew from about 2ha this morning to 3ha this afternoon, had been brought under control by about 2.30pm.
Police were interviewing witnesses.
Locals reported the flares had been deliberately fired at the scrub.
Police were interviewing witnesses to establish the circumstances.

- APNZ