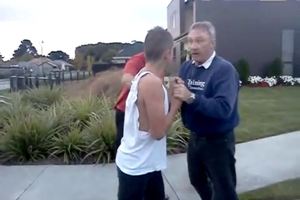 Expletive-strewn video footage of a middle-aged man hurling teenage boys and their BMXs about like toys has earned the man a warning from police - but praise from neighbours fed up with graffiti and anti-social behaviour.
The video went viral on YouTube with nearly 4000 views by the time it was taken down last night, many ridiculing the gang of boys for being "owned by an old man".
"That angry old guy should've given you all a crack in the mouth for the way you idiots were carrying on," said one.
"Those young s***heads need a flogging, people [have] had enough of disrespect," said another.
The Herald on Sunday has identified the man as Northwood resident Mike Gilligan.
The video shows him angrily holding down a teenager in thick grass outside his house in Northwood last month while yelling at the teen's friends, who had arrived on BMX bikes.
"If he wants to do this sort of thing after being warned then that is his f******* problem," Gilligan yells. "Get off my property and stay off."
The teenagers reacted by accusing Gilligan of child abuse and threatened to "knock him flat".
Gilligan is seen picking up one of the teenagers and throwing him on to the street before pushing his friend off his bike.
Another resident who was walking his dog stepped in to try and settle the situation but the confrontation had gone beyond the point of no return - and Gilligan next picked up the first boy's bike and hurled it on to the road.
Gilligan's wife, Karen, said the video, which was uploaded by the teenagers, had been edited and did not show why the altercation occurred.
"What happened was they threw a rock at one of the ladies and they were swearing and everything else so, as a community, we went to police and they said if we see it again report it straight away," she said.
"One of the parents ... came down and apologised, with the son, to the residents in the area so, that was really nice."
Northwood Resident Association chairman Clive Smith said it was a "sad set of events" and he did not condone either of the parties' behaviour.
"I just hope everyone can learn from this," Smith said.
Canterbury police communications manager Stephen Hill said the video was loaded on to YouTube an hour after the incident on March 6, but it was not reported to police until two days later.
Gilligan was given a warning for assault and the teenagers were given a warning for threatening him.