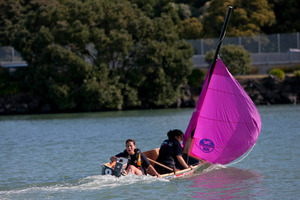 New Zealand's first-ever all-girl team joined the lads for today's Marine Trades Challenge, competing to build a boat in just two hours.
Napier's Tamatea School entered two teams in today's contest - one for boys, one for girls.
Tamatea girls Kaylah Robertson, Teena Boxer, Karli Brown and Grayson Unwin-Hunt said their main aim was to have fun.
Also competing were apprentices from the Core Builders Composite team.
"We put the hulls together in two hours,'' apprentice Callum Jones said. He and colleague Matthew Larsen were among the team who made a carbon fibre, timber and nomex boat.
They later started sinking - but so did half the other teams.
Scrutineer Shane Quaintmer from North Shore Coastguard said 18 teams competed in total.