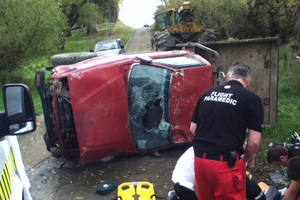 A young boy managed to keep calm and pull his badly injured sister out from beneath a crashed ute after her head had become trapped under the vehicle.
The 14-year-old girl has been described as "very lucky" after she survived the accident with serious injuries to her head and face.
She and her brother, believed to be aged about 7 or 8, were passengers in the ute driven by her friend which crashed at Masons Flat, in North Canterbury, on Thursday afternoon.
The ute rolled onto its roof and the girl was left hanging half out of the passenger side, with her head trapped.
Logging contractor Luke Eder was working nearby and rushed over to help. He found that the ute's shocked driver, aged in his late teens, and a witness had managed to lift the vehicle enough for the girl's brother to get in and pull her out.
"He was strong. He did very well. Full credit goes to him - he's a tough little nut," Mr Eder said of the boy.
"He was the only one that could lift her out. The other two were full-bore into lifting the vehicle just enough to release her head."
When Mr Eder first saw the injured girl she was unconscious and non-responsive.
"She had some pretty big cuts to her head, and her eye was already three times the size it should have been. To me, it was panic stations. She was in a real bad way."
When he returned from calling emergency services the girl had regained consciousness and had tried to flip herself over.
Mr Eder used some of his clothing to keep her warm.
Emergency services arrived and the girl was loaded into the Westpac Rescue Helicopter and taken to Christchurch Hospital.
She was treated for fractured facial bones and discharged from hospital yesterday.
A rescue helicopter spokesman called it a "very lucky" escape.