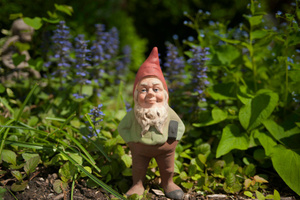 A group of university students caught carrying out an apparently long-standing custom of stealing garden gnomes have been introduced to another - being arrested for theft.
The three University of Otago students were caught making a daylight raid on garden gnomes in Oamaru yesterday.
A member of the public called police after seeing the brazen theft and a car stopped by police shortly afterwards was found to contain seven gnomes, along with their "liberators".
"Apparently, there is a custom where Otago students go out and obtain a gnome, normally by dishonest means, and liberate it from someone's garden. They supposedly look after it for a year, protecting it from a rival university," Sergeant Wayne Brew said.
Asked if he believed the story, he said "it seems quite plausible".
"There is a tradition down there that they go and take these gnomes whenever they go away."
Mr Brew said the trio were embarrassed about the thefts and were now being educated about another custom.
"They probably understand the tradition of the New Zealand Police to actually arrest thieves, a long-standing tradition as well."
It was not uncommon for gnomes and garden ornaments to be reported missing, "and it would be amazing to see how many garden ornaments" ended up in the Dunedin student quarter.
Garden ornaments "were quite sentimental pieces to those who own them", Mr Brew said.
Three gnomes had been reunited with their owners but people still missing a garden gnome were urged to contact Oamaru police.
Two 18-year-old men and a 19-year-old woman were charged with theft and were likely to appear in Oamaru District Court next week, Mr Brew said.