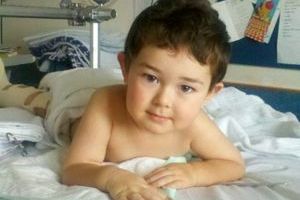 A toddler who doctors feared would never walk again after a car crash is moving both legs and likely to move into a rehabilitation home that will reunite his family early next week.
The improvement in the condition of Tauranga toddler Aiden Lints has overwhelmed his mother Monique, who didn't know if her boy would walk again.
Mrs Lints, husband Grenville, Aiden, his baby brother Danyon, and a 3-year-old family friend were returning from Whakatane on March 9 when their 4WD and a van collided head-on.
The 65-year-old man who was travelling in the van the Lints family collided with remains in a stable condition in a ward at Tauranga Hospital. He was discharged from the intensive care unit on March 29.
Aiden was flown to Auckland's Starship Children's Hospital with a suspected spinal injury and broken leg. Doctors put his leg in traction, concerned it might not recover completely.
Now, Aiden looks set to leave hospital. "Even though it was three weeks ago, it's healed enough that he's now active and twisting and turning and moving around and he's not even on as much pain relief," Mrs Lints told the Bay of Plenty Times.
Mrs Lints said the biggest improvement was over the last week, when he started moving his leg for the first time since the crash.
"It was like surreal. It was like 'were you doing that before?' I had to ring my mum and ask her. She just broke down in tears saying 'I can't believe it, that's so amazing'."
Mrs Lints needed surgery to have a wrist set. She also suffered a cracked pelvis and was unlikely to walk for up to eight weeks. Mrs Lints was discharged from Tauranga Hospital on March 21 and reunited with Aiden the next day. She has been at his bedside since. "Just seeing him for the first time, that was just the best thing, watching him improve," she said.
"It's like a Christmas present every day."
Mrs Lints is looking forward to Aiden's move to the rehabilitation home, which also caters for families of children and will mean the Lints family can finally be reunited. She said she was not sure exactly when Aiden was able to be discharged but expected it would after Easter.
Mrs Lints' 10-month-old Danyon, who suffered bruising, has been cared for by the couple's parents but will likely go to Auckland to be with the family after Aiden's move.
Mrs Lints said Aiden's improvement helped in her own recovery. "I'm just concentrating on Aiden. I suppose I'm still in a lot of pain but as mums do, they put their children first. I'm doing well. I'm much better for it, being close to Aiden."
For more articles from this region, go to Bay of Plenty Times