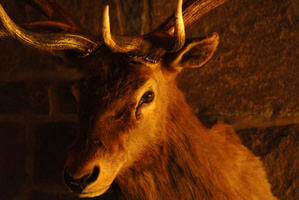 A rotting deer head has been left outside a North Island iwi office after its successful protest against a car race up Mt Ruapehu.
The Ohakune Giant 1000 race was called off last week after Ngati Rangi iwi called for protestors to picnic along its planned route on race days.
Disappointed locals, motorists and race fans have peppered the iwi with protests - including threats and abuse - since the cancellation.
Iwi executive manager Che Wilson said he found a deer head after he arrived at the iwi offices on Mountain Rd at 6am on Saturday morning.
Abusive graffiti had been painted across the office walls, he said.
"It's just disappointing. We think it was a rogue element - probably local. It is sad."
Mr Wilson said his staff had been abused by a local motelier who was angry at the race cancellation.
He had received a text message threatening to kill him along with several other protests.
"It's really shaken my family but I'm fine so far... I still hold the view that the race needs to move to a different site."
Police had been notified about the death threat and graffiti attack, Mr Wilson said.
Ohakune Giant 1000 organisers had disassociated themselves with the actions of the person who left the deer head, he said.
"We're still hoping we can work together. We've never been opposed to a rally - just the site."