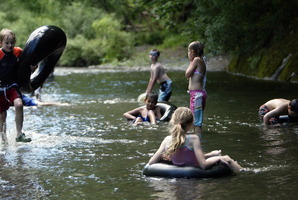 A school trip to Omatua Camp, near Rissington in Hawkes Bay, has resulted in about half the 30 youngsters and even some parents getting ill.
The incident, involving children from Napier Central School and their parents last week, is being investigated by public health specialists from the Hawke's Bay District Health Board.
The school's assistant principal Jane Taylor said the group arrived at the camp on Wednesday last week but days later the sickness kicked in.
A second planned school visit to the camp was cancelled as a result.
"They [health inspectors] advised us not to go until they had identified the cause of the illness," Ms Taylor said.
The Hawke's Bay District Health Board's Medical Officer of Health Lester Calder said health protection officers were presently carrying out tests to find what sparked the outbreak of gastroenteritis.
He said families of the children involved were being sent questionnaires to help the unit understand more fully why the outbreak had occurred.
"Some children had been seen by their GPs and tested after returning home," Mr Calder said, adding that an on-site meeting with the camp manager had happened yesterday.
While the cause of the outbreak was a mystery at this stage, health inspection officers were adopting a precautionary approach by investigating the drinking water supply at the camp, and providing advice about improvements which may be needed for better drinking water protection.
A detailed report into the outbreak was likely to be released in about a fortnight.
The camp was closed until the cause was determined.
Omatua is owned by Girl Guiding Hawke's Bay, having been gifted to Girl Guides by the Absolom family in 1960.
It is the site of what was one of the oldest homesteads built in the region, in 1861.
It was replaced by a modern complex of accommodation, meeting rooms, gardens and a camping area.
The venue is used for school visits, seminars, conferences and weddings.
For more articles from this region, go to Hawkes Bay Today