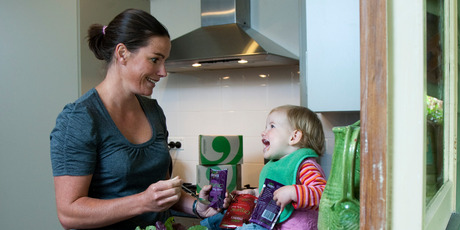 New Zealand baby food company Green Monkey is suing packaging manufacturer Aperio Group over the recall of almost $1 million worth of product after plastic disks were found in pouches of its organic puree.
A statement of claim from Green Monkey seeking summary judgement will be filed in the High Court this week seeking compensation for loss of stock, recall costs, and brand damage.
Green Monkey managing director Charlotte Rebbeck says about 620,000 pouches of the company's organic baby food sold in pouches supplied by Aperio Group had to be destroyed and another 300,000 empty pouches were incinerated.
Last October a small clear plastic disk about the size of a 10 cent piece was found in Green Monkey puree in Australia.
Rebbeck says investigations suggested it was a one off, but in December another Australian parent reported finding two disks in a pouch from a completely different batch, and that sparked the recall two days before Christmas.
"The harsh reality is that their (Aperio's) failings could have killed a baby due to the choking hazard of the clear plastic disks."
Andreas Haussrer, Aperio's general manager marketing for New Zealand, declined to comment other than to say they were treating the issue very seriously.
Most of the product affected was sold in Australia, but pouches en route to Hong Kong and Taiwan, and on the shelves in New Zealand and Korea were also subject to the recall which Rebbeck says had a catastrophic impact on the small company she co-owns with Andy Macbeth.
Green Monkey was off the shelves for four months while a new packaging manufacturer was found, leading to the dumping of fruit and vegetables grown under contract, and delaying exports to China.
"I don't know how many other businesses that could survive no sales for four months.
"With Woolworths Australia we had to pay a penalty for not being on the shelf. It's a miracle actually we've got back into markets like that."
Rebbeck says Aperio, one of Asia Pacific's largest producers of flexible packaging products, told her the problem came from a Malaysian factory making the pouches, but attempts to settle out of court for recall costs had been unsuccessful.
In mid-March an email from Aperio's lawyer said the impending $238 million sale of Aperio to Amcor, another major packaging manufacturer, meant "it would not be feasible to have authority to settle at a meeting or mediation as you have suggested."
Rebbeck says the irony is that Amcor is now making Green Monkey's food pouches, but Aperio's delay in settling the financial claim had forced her company to take legal action.
"They need to step up and sort it out, not fob us off just because they are for sale."
Green Monkey has won a number of food industry awards for its organic baby food since it was established eight years ago and Rebbeck says safety and purity are a big part of the brand.
"To have that taken away was a pretty emotional thing. I'm a mother and every time I look at those plastic disks I feel ill.
Green Monkey purees will be back on the shelves from mid-April and the organic baby food will also be launched in China along with Green Kiwi, Green Monkey's organic toddler formula developed specifically for that market
By Amanda Cropp