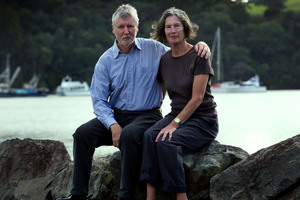 Pitched overboard and dragged under the bow of the vessel that had slammed into her partner's classic yacht Gypsy, the first thing Jill Hetherington felt when she came to underwater was not terror, but bewilderment.
Ms Hetherington doesn't remember the moment her "life changed dramatically" when the 71-year-old K-class yacht she and her partner John Pryor were sailing in the Anniversary Day regatta on Waitemata Harbour was t-boned by 18m yacht Antaeus, which was under motor. But she remembers the utter confusion of coming to underwater and not quite realising how she got there.
"I remember just before the impact and my next memory is opening my eyes and it was all blue and I thought, 'Huh? Where am I?' I realised I was underwater and was a bit puzzled by that and then I looked up and could see light and I thought, 'Yep, that's where I need to be,"' said Ms Hetherington.
As she tried to surface, she felt excruciating pain when she moved her legs, so could only use her arms as she fought her way upwards.
She surfaced only long enough to look around and wonder where Gypsy had disappeared to and note that Mr Pryor was also in the water, before going under again.
The next thing she remembers was Mr Pryor placing a life ring around her, and the skipper of Antaeus, Charles St Clair Brown, helping haul her on board his yacht.
Now two months on, Ms Hetherington continues her recovery from the accident that left her with a fractured pelvis and severe bruising and lacerations. She can "stagger around" but stairs and uneven ground are still a problem and her balance is poor.
The road to recovery has been a frustrating one and Ms Hetherington admits "it can be hard to maintain a sense of humour at times" as the effects of the accident continue to mount. Plans for a holiday to Korea, St Petersburg and Istanbul will most likely have to be put on hold - Ms Hetherington will make that call next week.
"I can't sit down for any length of time, I can't walk for any length of time, I can't do stairs, I can't do uneven ground, so my GP thinks I will be pushing it a bit to make it."
Mr Pryor believes his partner has been the "forgotten victim" of the Anniversary Day collision that has angered the yachting community and brought about calls for reforms on the water. But that sympathy is reciprocated by Ms Hetherington.
"Gypsy was John's pride and joy, he's had a pretty rough time with his two favourite ladies in his life effectively demolished for a while there. He's been rushing around between the two to do what is necessary to get them back to the way he would like to see them."
While Ms Hetherington is on the road to recovery, the fate of Gypsy is still up in the air. Mr Pryor spent five years restoring the classic yacht - the last Arch Logan design - only to watch it sink in a matter of minutes.
"I would love to repair it, but it's a matter of money basically," he said.
The price tag on the repair is around $350,000 and Mr Pryor's insurance money would cover only about a fifth of that, but most of it has also already been spent on expenses incurred as a result of the accident. The couple, who live on Kawau Island, have had to move to rented accommodation in Sandspit so Ms Hetherington can keep her numerous medical appointments.
Mr Pryor is in consultation with a maritime lawyer to try to recoup some of the losses.
"In an ideal world Mr St Clair Brown would pay for the Gypsy repairs and he would also contribute to the very significant out-of-pocket costs that Jill and I have gone through and are still going through," he said.
Mr St Clair Brown was fined $200 by the Auckland Harbourmaster - the maximum penalty that could be imposed - for his part in the accident, after Maritime New Zealand decided not to investigate.
He told the Aucklander this week that he was sorry about the accident and had sent his condolences to Ms Hetherington but could not comment on the fine because the matter was in the hands of his insurers.
The decision has sparked vociferous debate on online yachting forums.
Mr Pryor described the online venting as "all a bit pointless really" but said he would like to see a review of marine accident investigations.
"I think there needs to be a review in which cases are investigated, and who they're investigated by. Maybe there is a role for maritime police, I don't know."