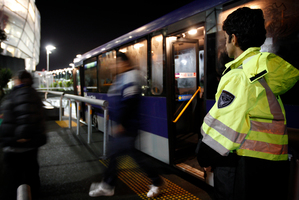 An official investigation is under way into an unlicensed security firm winning lucrative contracts at Eden Park, Auckland Council and Vector Arena in a possible breach of a new law designed to clean up the industry.
Darien Rush Security was quietly dropped as the security contractor for Eden Park after the Rugby World Cup following some negative publicity leading up to the tournament.
A new security firm, Platform 4 Group, incorporated in December, won the stadium contract despite being unlicensed. Under a new law security firms must be licensed to do any work including crowd control.
Owned and operated by former police officer Aaron Colthurst, Platform 4 Group went on to get more work at Vector Arena and the Auckland Council, replacing Darien Rush.
An application to license Mr Colthurst's company was made in December but was not completed at the time the contracts were awarded.
When Eden Park, Vector Arena and the council were told the new provider was unlicensed, Platform 4 Group teamed up with a licensed company, Harrison Tew Consultants, to take over the contract.
Harrison Tew - staffed by two directors to provide emergency planning for schools but with no crowd-control experience - then employed Platform 4 casual staff and independent contractors to provide security at events, according to a complaint laid by Darien Rush Security.
A spokesman for the Ministry of Justice, which administers the Security Licensing Authority, confirmed the matter was referred to the newly formed Complaints, Investigations and Prosecutions Unit at the Department of Internal Affairs.
A DIA spokesman said an investigation was under way but declined to comment further. Several figures in the security industry have already been interviewed by a senior DIA investigator and the Platform 4 licence application is on hold for now.
The Weekend Herald has learned the inquiry will focus on two key issues - Platform 4 Group allegedly operating without a licence and Harrison Tew allegedly acting as a front company.
Mr Colthurst and Wade Harrison, one of two directors at Harrison Tew, are former police colleagues. Both declined to comment on "commercial matters".
Management at Eden Park and Vector Arena also declined to answer questions about any arrangement between the two security firms.
"Those security services which require licensing are provided by an appropriately licensed company," said park chief executive David Kennedy.
"Platform 4 Group don't provide any services to Eden Park that require a security licence."
Online advertising in January shows Platform 4 Group described as the security staff provider for Eden Park to work at Super 15 games, the Warriors opening NRL match against Manly and international cricket.
More recent ads describe it as the park's "event staff provider".
Vector Arena general manager Brendan Hines said staff there were "licensed and provided through a licensed security company".
The Weekend Herald has been told Platform 4 staff had to sign new employment deals with Harrison Tew on the eve of the Ronan Keating concert at the arena last month.
A third major event linked to the DIA investigation is the three-day Lantern Festival organised by the Auckland Council last month.
Auckland Tourism, Events and Economic Development, an Auckland Council organisation, gave the contract to Platform 4 in December but switched to Harrison Tew in January when officials discovered the licence was yet to be granted.
A spokeswoman for the body said: "ATEED needed to act quickly to ensure the safety of Lantern Festival attendees and guests. Platform 4 Group recommended Harrison Tew, who also contracted the same independent contractors that had been involved in the initial stakeholder meetings for the Lantern Festival."
She said the organisation would co-operate with the DIA inquiry.
Industry insiders say the Eden Park and Vector Arena contracts are worth more than $1 million each year.
The DIA inquiry is the first into a major alleged breach of the Private Security Personnel and Private Investigators Act which required crowd controllers and personal guards to be licensed by November.
The decision to award the Eden Park contract to Platform 4 was part of the fallout from publicity surrounding Darien Rush Security leading up to the Rugby World Cup.
Liquidators are preparing court action against Darien Rush Security, which bought the cup contract from a failing company, Strategic Security. As part of the deal, a Strategic director, Jason Brott, became the chief operating officer for Darien Rush.
Mr Brott, a former bodyguard for heavyweight boxer David Tua, has since joined Platform 4 Group with two key Rush staff members, Dan Scott and Ashley Quensell.
Mr Scott and Mr Quensell were the Rush operations managers for Vector Arena and Eden Park respectively, which means the stadiums still have the expertise to keep running events.
Can you help?
Do you have information which should be made public? Contact the Herald's investigations editor Jared Savage by clicking the link below.