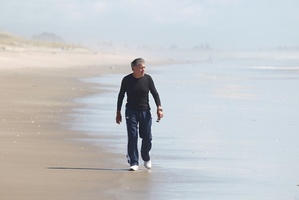 A road worker crushed between two heavy trucks says he vividly recalls hearing both legs snap.
Moe Taikato, 65, this week broke his silence on the horrific injuries he suffered while working on East Coast roads a year ago.
"I had broken legs, femurs, my back, my ribs, my ribs cracked, my lungs and my liver," he says.
"People tell me 'you're lucky to be alive', and I agree."
The Papamoa man was spreading road chipping behind a truck near Te Kaha when he unwittingly ended up in the path of a reversing sprayer truck.
It rammed into his truck, pinning Mr Taikato and crushing bones.
"I remember everything. It's pain I wouldn't wish on my worst enemy. I actually heard my legs break."
Two passing doctors saw the incident. They administered first aid but it wasn't enough. They had to convince Mr Taikato, who had a phobia about flying, that a chopper ride to Tauranga Hospital would save his life.
"I was petrified of flying so I said 'no'."
It would have taken six hours for Mr Taikato to get to Tauranga by road, compared with a 90-minute return trip for the Trustpower TECT Rescue Helicopter.
Mr Taikato says by the time the chopper arrived he was in so much pain he wanted to get to hospital as fast as possible.
"They were going to lift me off and move me and I thought: 'oh, here goes'. But they were so careful, eh. I couldn't believe it, how careful they were."
Mr Taikato remembers the entire ordeal except for arriving at hospital. He would later be told his heart stopped twice on the operating table. His two heart attacks led doctors to book him in for a triple bypass at Waikato Hospital. It was done three weeks ago.
Today, a fresh "zipper" runs down the centre of Mr Taikato's chest.
The rest of his scars stretch across his legs and arms.
Despite the metal rods and plates throughout his body, Mr Taikato exercises at the local gym and walks the beach everyday without pain.
"Every day I wake up and it's a bonus."
Mr Taikato plans to attend the Trustpower TECT Rescue Helicopter fundraising open day behind Tauranga Hospital on Sunday and hopes his story will prompt people donate vital funds.
"I would see them flying past and think 'yeah, someone's hurt' but not think any more about it. I used to think they were Government-funded, but no.
"It had to take an accident for me to give them any money. I would advise anyone to help them out now because they need the funds. Don't wait to have an accident like me," Mr Taikato says.
"If it wasn't for them I think I'd be dead."
bop kg cr
For more articles from this region, go to Bay of Plenty Times