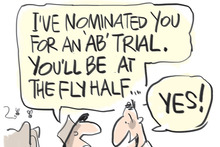 The mention of AB means only one thing to most Kiwis - the All Blacks. But migrant farm workers are being warned that an "AB" on a farm is not alluding to a VIP visit - it's something else entirely.
A new guide says AB has got nothing to do with New Zealand's sporting heroes when farm workers hear it at work - it means artificial breeding or artificial insemination of cows.
Immigration and Associate Primary Industries Minister Nathan Guy yesterday launched two guides aimed at helping build better working relations between migrant dairy workers and their employers.
The guides cover topics including Kiwi slang and expressions, adapting to rural life and employment and immigration law.
It also introduces farm jargon - "hairy" means a young dairy farm worker, "AB" stands for artificial breeding and smoko means a short break from work.
Dennis Maga First Union migrant support co-ordinator said the guides and introduction to farm jargon were a "useful first step".
"Obviously when you put New Zealand and AB together what comes to mind are the All Blacks, so it's useful to know that it means something else on the farm."
But Mr Maga said learning jargon was a "secondary issue", and that access to services such as health care, citizens advice bureaux and places of worship remained the main issue for migrant dairy workers here.
The guides were a result of the Migrant Dairy Workers Initiative set up by Immigration last year amid concerns about the welfare of migrant dairy farm workers and their families.
By Lincoln Tan

Email

Lincoln