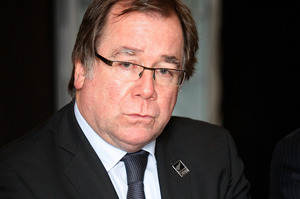 Foreign Minister Murray McCully told Parliament yesterday he still had confidence in Foreign Affairs chief executive John Allen despite publicly criticising the way Mr Allen is proposing change.
But the Transtasman newsletter yesterday suggested Mr Allen could be considering resigning if he is forced to change too many proposals.
It also says that cabinet trouble-shooter Steven Joyce has been brought in to help manage the change along with the chief executive of the Department of Prime Minister and Cabinet, Maarten Wevers, and the State Services Commissioner, Iain Rennie.
But Mr McCully said last night that was "complete fiction."
He said he had sought meetings with Treasury, the State Services Commission and the Department of Prime Minister and Cabinet in the past fortnigh. Mr Joyce was not involved.
He had also held very professional discussions with Mr Allen over the changes.
Mr McCully has been under fire in Parliament from former Foreign Ministers Phil Goff and Winston Peters over the changes proposed.
Yesterday Mr McCully expressed confidence in Mr Allen, who took charge of the ministry in 2009 as a former chief executive on New Zealand Post.
But Mr McCully sent Mr Allen a highly critical letter on Thursday about the proposed business model and took the unusual step of releasing it.
It distanced himself from some of the more unpopular moves in the ministry putting on public record the fact that Mr McCully also expressed concern with them before the proposals were released for consultation, such as outsourcing and slashing allowances for overseas postings.
Mr McCully was especially critical in the letter about failures to cut back-office costs.
"I have made clear my disappointment that MFAT continues to carry back office costs that are seriously excessive. It is a non-negotiable bottom line policy of the Government that back office costs be reduced."
He also told Mr Allen he wanted to set up an external board to work with him to find more effective ways of operating the ministry's property portfolio.
He concluded: "Can I record my strong desire to see steps now taken quickly to provide certainty for staff, allowing for a rebuilding of confidence, professionalism and morale."
But he had praise for one reform, making it clear that the introduction of a merit based appointment system rather than one in which seniority took precedence would be a major step forward, "the significance of which is hard to over-state."
The original proposal would have seen about 300 job losses - that is now likely to be halved Mr McCully has said.
The Public Service Association met Mr Allen yesterday and later said he had said there would be"substanive changes" to the proposals.
National secretary Brenda Pilott said the minister's letter added to the confusion about who was in charge of the process and where it was going.
She said the PSA's submission represented"a complete rejection of the attempted restructuring, both the process and the proposals."
"We believe that the focus of restructuring has been too much on cutting staff numbers as a'quick fix." There is room to look at potential savings in range of non-personnel areas, including IT and travel, and those should be explored first," she said.