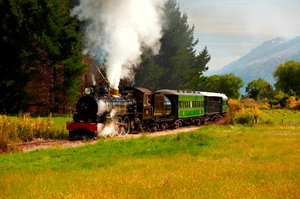 As a child, David Bryce did not own a train set like other kids did. He waited until he was in his 50s and bought a full-sized one instead.
Mr Bryce has breathed new life into a piece of New Zealand transport history by buying the Kingston Flyer steam train, which ran on a 14km track in Southland for 125 years until financial failure in 2009.
After suffering a stroke last year, Mr Bryce, 53, found a new outlook on life and bought the train sight unseen on the Trade Me website.
It looked "pretty sad" sitting idle in the advertisement, and some of his family wondered if the wealthy wine-grower had gone mad.
"But I'd thought to myself, let's have some fun. Let's buy the train," Mr Bryce said.
"It looked like it needed some care and attention - so I took the bull by the horns.
"When I'm on that train, or at the station, I love seeing the joy on people's faces. It's not only the kids, people of all ages just love it.
"When I was on the locomotive for the first time it was very emotional and people kept coming up to me and patting me on the back and thanking me. It's still emotional for me now."
The first Kingston Flyer Weekend will be held on the weekend of March 31-April 1, with special ticket prices on offer.
The tiny community of Kingston on the shores of Lake Wakatipu, near Queenstown, is looking forward to a reinvigorated tourist attraction.
"This old steam train is a vital and integral part of our community and we are very keen to support the new owners in keeping it going," said Annette Dalziel of the Kingston Community Association.
Mr Bryce said he had to set small goals to rehabilitate himself after his stroke in March last year.
"I made it my goal to secure ownership of the train and build the business for the community ... So that's what I'm doing."
The Kingston Flyer had been relicensed and made operational again. The next goal was to make it a lasting business and put it in the hands of a charitable trust.
It took a lot of money to keep it operating, Mr Bryce said, but he would not say how much he has spent on it.
Five dollars from each ticket sold during the Kingston Flyer Weekend will go to the Stroke Foundation of New Zealand, which supported Mr Bryce in his recovery.