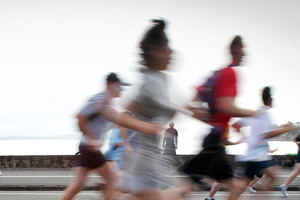 New Zealand's largest fun run, the Ports of Auckland Round the Bays, attracted an estimated 70,000 walkers, runners and wheelchair athletes today as they made their way along the 8.4km route from Quay Street to St Heliers Bay.
First to cross the finish line in 28 minutes and 4 seconds was Jono Jackson from Auckland City Athletics Club.
Second was Tony Payne in 28 minutes and 16 seconds.
The first woman across the finish line, Lisa Robertson, a first-timer in the Round the Bays and a member of Pakuranga Athletics Club, was nearly five minutes ahead of her closest rival, clocking in at 29 minutes and 19 seconds, followed by Nikki Hill at 34 minutes and 14 seconds.
The event was also a special occasion for 13-year-old Sahara Adams. The Make-A-Wish recipient was the official race starter, setting the 70,000 strong crowd on its way at 9.30am.
"It was so cool! It was a bit freaky with all those people, but I really enjoyed it,'' says Sahara.
Sahara, who is undergoing leukaemia treatment, recently met her idol Taylor Swift thanks to Make-A-Wish New Zealand.
Proceeds from the 42,000 participants who officially registered for today's event will go to Make-A-Wish New Zealand, Child Cancer Foundation, Garden to Table Trust, Fairfax First Books and Kidz First Childrens Hospital.
After the event, crowds headed to more than 600 barbecue sites at Madills Farm and Glover Park for food, drink and entertainment.
Event spokeswoman, Sandra King, says over 80% of entrants were part of a team.
"Teams ranged from four to 1200,'' she said.
Weather conditions were fine for the race, with cloud cover and slight drizzle later in the morning helping to cool off the athletes.
The Round the Bays event was established by the Auckland Joggers Club in 1972 with the inaugural event attracting 1200 participants.
- APNZ