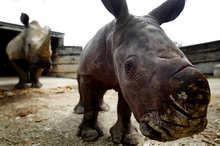 The birth of a baby rhinoceros at Hamilton Zoo has zoo staff so ecstatic they nicknamed her "Happy".
The female southern white rhino was born last Tuesday at 11pm to mother Moesha and father Kruger.
She will make her public debut on Thursday or Friday this week with her mother at about 10am for one hour to get her used to the limelight.
Her birth follows that of her half-brother Ubuntu, known as Bunty, two years ago.
The zoo's newest addition is the sixth baby rhino to be born at the zoo and increases the number of rhinos living there to seven.
The new rhino weighed about 60kg at birth and is expected to put on 2kg a day.
Hamilton Zoo's team leader of mammals, Samantha Kudeweh, said the rhino's official name was likely be decided through a competition with zoo visitors encouraged to come up with a name reflecting the species' African roots.
In the meantime she had given her the nickname "Happy" because she was healthy and a girl.
"Compared to Bunty's [birth] everything is going swimmingly. She got up reasonably quickly, she's a very strong little calf, very robust and a healthy little girl."
Ms Kudeweh said the birth was a big boost for the endangered species. The southern white rhino population has risen from less than 100 in the early 1900s to more than 20,000.
Hamilton Zoo is one of six zoos involved in the Australasian white rhino breeding programme. As part of the programme Ubuntu and his brother Kifaru will be sent to an Australian Zoo next year.
By Nikki Preston

Email

Nikki