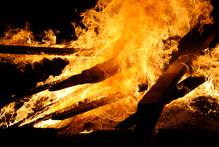 A pregnant woman who had only just returned home from hospital after a car crash has been saved from her burning home by a neighbour.
Ila Bennett, 18, who is eight months pregnant, was asleep with her partner, Winitana Dallow, 18, at the Hastings home they share with her mother when the fire broke out at 12.40am on Saturday.
The first the couple knew of the flames engulfing the flat was when their neighbour, Ed "Stretch" Taylor, kicked his way inside to raise the alarm.
"We still wonder how we got out of there," Miss Bennett said. "We were so tired from the hospital ordeal that we were dead asleep. If the neighbour hadn't woken us up we'd probably be dead."
Mr Taylor said he didn't think twice about running inside the home for neighbours he had never met before.
"We got home, my partner and I, and we were cooking a feed in the kitchen and I went outside for a cigarette and I saw the smoke coming up over the fence and the next thing - boom! It all went up," he said.
"I ran straight over and banged on the windows because I knew they were inside ... but it didn't wake them up. So I kicked the door in and got them up, then started running and getting their stuff out, like the new baby things and that, but it was that fast, it was unbelievable."
Damage to the house was significant - all rooms were damaged by smoke, fire or water and are unliveable.
"It has not been a good week for us," Miss Bennett said. "We have just come home from hospital and now our house is incinerated."
Her mother, Makere, was at work at the time of the fire.
She described Mr Taylor as her "angel" and "the hero of Hastings".
"He's got a burned foot from where he kicked the door down to run inside and get my baby," she said. "He's such a hero, we are in gratitude for him being there. Not only did he save their lives but he ran in about five times trying to save our belongings."
Hastings Fire Service spokesman Dennis O'Leary said the fire started in the laundry and the home did not have smoke alarms.
"It was definitely lucky someone noticed them really, and was able to wake them up," he said.
Constable Kate Hyde of Hastings police said the fire might have been an arson attack.
"Police and fire investigators are working to establish the cause of the fire, but initial indications have not ruled out deliberate arson as the cause," she said.
- APNZ