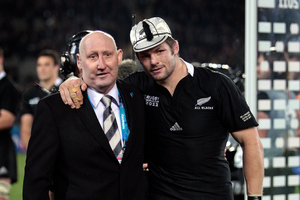 Former All Black captain Jock Hobbs remains in a critical condition in Wellington Hospital after a deterioration of his leukaemia.
It was confirmed last night that Hobbs, 52, who also chaired the New Zealand Rugby Union, was in the intensive care unit at Wellington Hospital.
A hospital spokesman this morning said he remained in the unit in a critical condition.
Mr Hobbs' family members are gathering in their Wellington home, with his son, Blues' Super 15 player Michael, leaving the squad in South Africa to fly home.
"Michael got a call yesterday, Jock is in hospital in a serious condition, and he's flying home,'' Blues' coach Pat Lam said.
Lam said the team's thoughts and prayers were with the family.
NZRU chief executive Steve Tew said last night: "Jock is currently in hospital and in a serious condition. All our thoughts and support are with Jock and his family.''
Hobbs led the rugby union for eight years from 2002, and became chairman of the World Cup's organising body, Rugby New Zealand 2011, soon after New Zealand won hosting rights.
But he stepped down from both roles in May 2010. He was diagnosed with a chronic form of leukaemia more than five years ago, and needed six months of chemotherapy in 2010.
In 2005, Hobbs was central to New Zealand's bid to host the cup, travelling to the International Rugby Board headquarters in Dublin with rugby ambassadors Tana Umaga and Colin Meads and then-Prime Minister Helen Clark.
About the same time that he stood down from the NZRU and RNZ 2011, the finance company for which he was a director, Strategic Finance, collapsed. It was New Zealand's second-biggest finance company collapse, after Bridgecorp.
The All Black flanker played 21 tests between 1983 and 1986, four as captain, before he had to retire prematurely from the game after complications from concussions.