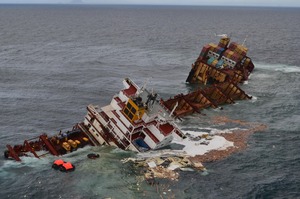 A series of poor decisions by the "totally incompetent'' Rena crew led to the ship's grounding on Astrolabe Reef last October, Tauranga's mayor says.
A Transport Accident Investigation Commission interim report into the grounding released today indicated the captain was under pressure to reach Tauranga before the ebbing tide made it unsafe to bring the ship into port.
The 20-page report avoided casting blame and instead set out the facts about what happened in the days and hours leading up to the grounding at 2.14am on October 5.
Mayor: 'Poor decisions' made by crew
Tauranga mayor Stuart Crosby today said the report was "quite revealing''.
"It really just highlights the pressure that captain and crew were under to get to Tauranga at a certain point in time and some decisions they made to do that.''
Significant errors of judgement were made by the Rena crew, Mr Crosby said.
The public would be surprised by this report and how anyone could have made those decisions, he said.
"It was a series of poor decisions.''
But the damage had been done and nothing could undo the environmental catastrophe.
"I just hope these people are never allowed onto a vessel again, or in charge of a vessel, because they're just totally incompetent.''
Regional Council: Report provides 'clarity'
Bay of Plenty Regional Council Chairman John Cronin welcomed the report, saying it provided clarity for the Bay of Plenty community.
"Our communities have been through a lot since this accident and hopefully the information provided in this report will help [them] better understand what happened and then assist them in the healing process," Chairman Cronin said.
"We really appreciate that this has been a difficult time and we have been very grateful for the patience and understanding of iwi and our community."
Green party: 'Independent inquiry needed'
Green Party Oceans spokesman Gareth Hughes said although he welcomed the interim report, it was only putting some of the facts on the table and a wider probe was needed.
"For Kiwis to have confidence in our shipping regulations and our response to oil spills and maritime accidents, we actually need a thorough investigation into the whole Rena response,'' he told APNZ.
"While we welcome this interim report, what we need is a royal commission of inquiry, or commission of inquiry - an actually independent inquiry to look both the causes of the accident but also the response.''
Mr Hughes said the report raised the need for compulsory shipping lanes to act as a strong disincentive for ships acting like the Rena had.
"But actually I think we need to have a more thorough look into our whole shipping regime. We have one of the most liberalised shipping regulations in the world, allowing these flags-of-convenience ships to supply our waters.''
Countries like Canada and the United States had much stronger regulations on the types of ships and crews allowed in their waters, he said.
Mr Hughes said there had been grave concerns over the initial response to the Rena spill and questions needed to be asked about Maritime New Zealand's role.
"What we know from Maritime New Zealand's past reports is they've been systematically underfunded, running year-on-year deficits. They drew down the oil pollution response fund, they weren't taking advice from business and unions to purchase key infrastructure.
"So I think there's some serious questions that need to be asked of the Government's overall response, and this report isn't shining any light on that.''
- APNZ