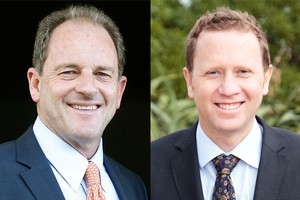 A political leader will appear in Parliament with a drastic new hairdo this month after the public decides who it would most like to see get the chop.
Either Labour Party leader David Shearer or Green Party co-leader Russel Norman will have their heads shaved as part of a fundraiser for people with leukaemia and other blood cancers.
In a campaign that neither participant is desperate to win, the public can now vote on which politician they would like to see lose their hair outside the Beehive on March 26.
Dr Norman encouraged people to place their vote in Mr Shearer's column, because less hair would be lost: "I'm pretty sure I've got more hair than him - so he's got nothing to lose!" He said he was motivated to support a blood cancer awareness week because he was diagnosed with melanoma, aged 15.
"It's a good cause. When you're young - and when you're old - it can be a real challenge dealing with it.
But I survived, and here I am today."
The ministers will kick-start the Shave for a Cure week during which thousands of individuals, schools, businesses and community groups will shave their heads. Last year, 4000 New Zealanders took part.
Leukaemia and Blood Cancer New Zealand chief Pru Etcheverry said: "So many people know someone who has been diagnosed with leukaemia or a blood cancer. Shaving is a simple and very visible way of showing their support.
"It will be fun to see who New Zealanders most want to see shave and we're looking forward to seeing the minister's new hairdo. We hope their leadership encourages other Kiwis to shave their heads to make this the biggest New Zealand shave yet."
* To vote, donate, or participate, go to www.shaveforacure.co.nz