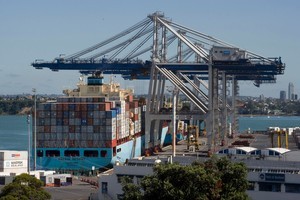 Auckland port workers have begun their second week on strike by offering free labour to community groups.
The Maritime Union - which says a "small amount" of progress was made in mediated talks yesterday and on Thursday with the council-owned port company - is offering working bees at community facilities such as schools or marae.
"We'd rather be working but the port company hasn't given a choice," said striking worker Rob Powley, who has spent 43 years on the wharves and much of that time as an unpaid St John ambulance volunteer. "We want to use our time and our skills to get out and help the community."
Mr Powley said he and others among the 300 workers who have put the port on notice of staying on strike for three more weeks were ready to respond to requests from community groups for free labour through the website www.saveourport.com. He denied it was a propaganda stunt.
The second ship to call at the Fergusson terminal during the strike finished unloading about 1000 containers yesterday, and a third was expected tomorrow.