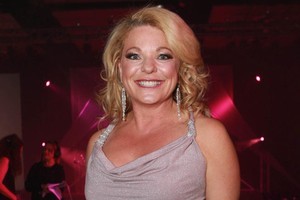 It was a day with a difference, and Kerre Woodham used a leap year tradition to hook the man of her dreams by proposing to long-time partner Tom McIvor.
The broadcaster was one of the many women who took advantage of the February 29 custom - where women can propose to men - to pop the question.
Yesterday, Woodham posted a photo of a card that read, "I choose you" on Facebook accompanied with the message:
"... and he chose me. I'll be Mrs McIvor - officially - within the next 12 months."
Woodham did not want to discuss the details of how she proposed to her long-time and extremely private partner but she said he wasn't surprised.
The broadcaster and columnist said she didn't expect the overwhelming response to her announcement.
She said until there was a ring and a date, it was more "a declaration of intent".
On her public Facebook profile, Woodham said the wedding would probably be very quiet given they were still "paying off the daughter's wedding".
"But we've been talking about it for years and it just didn't seem to be important but I went to Cathy Campbell's funeral today and I want to see my friends at a wedding, not a funeral and Leap Day seemed too good an opportunity and everyone loves a good party, even if it is just a BBQ at home with the stereo cranked up!
"And no, NO women's mag deals!," she wrote.
- Staff reporter