Did you see the funnel cloud?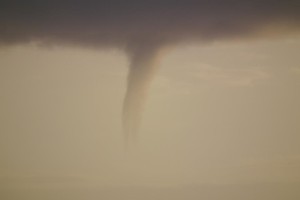 A funnel cloud has swept its way around the Auckland skies this morning, and there is a chance for more today.
Although it was a cool, calm morning in Auckland cloud build-up caused a fairly harmless funnel cloud, WeatherWatch forecaster Philip Duncan said.
Aucklander Annabel Goubitz spotted the funnel and said it lasted for about five to 10 minutes before fading.
Cloud build-up could trigger more funnel clouds over the day, Mr Duncan said.
"We have some big showers around the Auckland region already this morning and as we saw late yesterday, a still day with afternoon heating could trigger a few isolated downpours and thunderstorms this afternoon and evening.''
Yesterday afternoon a couple of fast-growing thunderstorms brought some minor flooding to suburbs in the south.
The clouds were rotating, but no funnel clouds or tornadoes were reported, Mr Duncan said.
The risk for isolated funnel clouds in Auckland today was moderate, with a low chance one could reach the ground and form a weak tornado or waterspout.

- APNZ