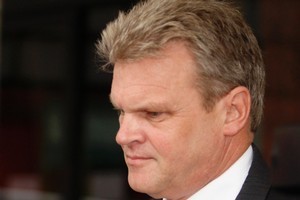 Former Bridgecorp Rob Roest has begun giving evidence in his own defence after the Crown wrapped up its cross-examination of his co-accused Rod Petricevic.
The two men, along with fellow director Peter Steigrad, are accused of misleading investors in Bridgecorp's offer documents and are on trial in the High Court at Auckland.
Yesterday, Petricevic argued Bridgecorp's financial position had not materially worsened between June 2006 and March 2007, when the former managing director signed documents extending the life of an allegedly misleading prospectus.
"Did you accept that very tight situation [Bridgecorp was in] was a material change in circumstance?" Crown lawyer Warren Cathcart asked.
"We believed the amendments made to the prospectus reflected the situation Bridgecorp was in...we were tighter but it was manageable," Petricevic said.
In his final set of questions Mr Cathcart then asked the witness:
"Do you consider a finance company that regularly missed its interest payments and maturity payments to investors was a company that had deteriorated considerably?"
"Mr Cathcart I stand by my statement that I do not believe Bridgecorp missed its interest payments," Petricevic said.
"We know it did," Mr Cathcart retorted.
Throughout his evidence Petricevic has maintained a large run of interest scheduled to go to investors on March 31, 2007 was delayed - not missed - because it fell due on Saturday and the funds went out on the next business day.
"It was payed on the next business day as per normal business practice. The contract said the 31st and it was paid on the next business day. That is not a missed interest payment," he repeated yesterday afternoon.
Following this, Justice Geoffrey Venning weighed in.
"I'm not talking about the March 31 interest run and I'm not talking about your knowledge at the time in 2007. Do you accept now that on a number of occasions from February 7 Bridgecorp and Bridgecorp Investment Limited failed to make payments?" the judge asked.
"I can see that now...I accept that now," Petricevic said.
Roest began giving evidence late yesterday afternoon about his responsibilities at Bridgecorp and will continue in the witness box today.
The three accused deny the charges against them in a trial expected to run until March.
Around 14,500 investors lost $459 million when Bridgecorp collapsed in July 2007.