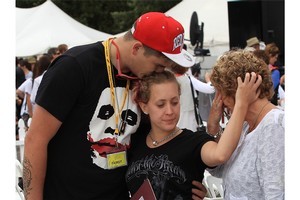 Where there was a public outpouring of grief in Christchurch 11 months ago, yesterday there was sombre reflection. A feeling of hope for the future even.
The people of Christchurch came out in their thousands at Hagley Park to mark one year on from the February quake, just as they did in March last year for a public memorial service to remember the 185 who lost their lives.
Under gloomy skies and a threat of rain, there were men in suits who had got away from the office, teenagers in school uniforms and families with picnics. A couple of posties - still in uniform with their bikes resting alongside them - had rushed to finish their deliveries to get to the service on time.
For families who lost loved ones in the quake - fenced off in their own section alongside dignitaries to protect their privacy - the pain was still raw, their sobbing evidence of that.
But beyond those VIP fences, there was largely a quiet composure. This time it did not feel like a funeral.
With a year to digest what had happened, people's sense of disbelief from March seemed to have been replaced with an acceptance of what had happened to their city.
When the names of the 185 victims were read aloud yesterday, the emotional impact was perhaps lessened by the fact that the roll-call had been heard before.
The release of 185 monarch butterflies, by quake-affected children as a symbol to honour the dead, was perhaps the greatest test of people's composure.
The speeches from the likes of Prime Minister John Key were full of comments about hope and looking to the future.
Christchurch woman Debbie Thorne, 39, had her own take on why yesterday's service was so different: "I think now it's almost more of a closure. Back in March there [were] still bodies that weren't identified and things like that. So many people didn't know where they stood. And now we know a wee bit more. So that's part of moving forward."
Mary-Anne Jackson, who fled the Canterbury Television building seconds before it collapsed and killed 115 people, said the services yesterday were very moving.
"I'm proud to be [a] Cantabrian today."