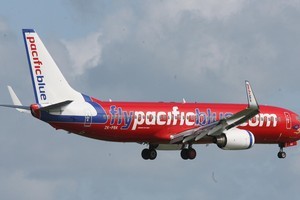 A Pacific Blue aircraft was involved in an emergency landing at Wellington Airport last night. Photo / Glenn Jeffrey
A Pacific Blue plane bound for Wellington made an emergency diversion to Christchurch.
A Christchurch Airport spokeswoman confirmed the plane landed safely at 12.30am today.
"All I know is that we enacted our standard emergency procedures because we were alerted to a potential problem on the plane."
"Fortunately a very happy ending on February 22."
A Wellington Airport spokeswoman confirmed the plane was a Pacific Blue aeroplane, but could not say where the plane had come from.
She said no information was available on what led to the diversion.
- APNZ