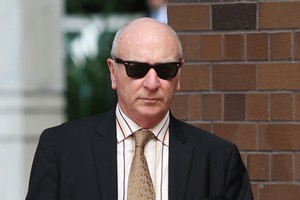 Former Bridgecorp boss Rod Petricevic signed but did not read in full documents that allegedly mislead investors.
Petricevic is giving evidence in his own defence in the High Court at Auckland and was red-faced as he underwent a grilling cross-examination from Crown prosecutor Warren Cathcart yesterday.
Petricevic - along with fellow directors Rob Roest and Peter Steigrad - are accused by the Financial Markets Authority of misleading investors in Bridgecorp's prospectus and other documents.
But the 62-year-old told the court yesterday he did not read Bridgecorp's 2006 prospectus in full, despite signing it.
"I read the markups. I didn't read the full prospectus," Petricevic said.
"You signed off this important document without reading it in its entirety?" Mr Cathcart asked.
"Absolutely," the former director replied.
As well as charges under the Securities Act, Petricevic and Roest face eight counts of knowingly making false statements in offer documents that Bridgecorp had never missed interest payments or repayments of principal to investors.
According to Crown evidence, Bridgecorp began missing payments to investors from February 7, 2007.
Petricevic stuck to his guns under cross-examination and said he was not aware Bridgecorp missed maturities payments until he read it in the newspaper after the company went into receivership.
When Bridgecorp collapsed in July 2007, 14,500 investors were owed $459 million and are now likely to receive less than 10 cents in the dollar back.
Despite receiving a report in April 2007 saying the company had missed maturities payments, Petricevic said he dismissed the document because its author was a "very new junior employee". The former managing director admitted yesterday the report was right and he regretted not following the issue up but did not believe he acted carelessly.
He denied suggestions that Roest - Bridgecorp's former finance director - informed him of missed payments in regular weekly meetings.
"Do you find it extraordinary that all these other people knowing [and] all this documentary material showing missed maturities payments that you don't know anything about it until after the receivership?" Mr Cathcart asked.
"At the time I was not told, the rest of the directors were not told, certainly if they were, they did not [tell] me," Petricevic replied.
When asked outright if investors were lied to the director said: "Investors were number one ... there was no lying done on my part to any investor." Cross-examination of Petricevic is expected to finish today.
Following that, Roest and Steigrad are due to give evidence in their own defence.
The trio on trial deny all the charges against them.