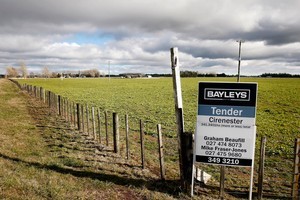 A group of Maori with links to a bid for 16 Crafar dairy farms yesterday staged a protest at two of the properties at Benneydale, south of Te Kuiti.
The group from South Waikato Ngati Rereahu said the tribe had been fighting for the return of the land since 1886 and had laid a claim with the Waitangi Tribunal.
The group has hapu links with two Maori trusts who are part of the Sir Michael Fay-led consortium that wants to buy the 16 farms.
The consortium initiated a legal review which led to a High Court order forcing a rethink of a bid by Chinese company Shanghai Pengxin.
Group spokesman Edward Emery told Radio NZ the "occupation" would carry on if Shanghai Pengxin succeeded with its bid, but the group of about 20 would not disrupt farm work.
"We just want to occupy the most sacred spots for Rereahu," he said.
"We have got the money to buy these two farms back ... We don't care how many millions it costs to buy them back because of the cultural significance surrounding them."'
Receiver Michael Stiassny said the site of the protest was "somewhat removed from our farming activities" and he understood the protesters would be camping on the side of the road rather than on the properties themselves, which include a pa site.
He said he had been in touch with police and the local council and expected to make a decision about a response to the protest within 24 hours.
Prime Minister John Key said a swift decision on the review of the Shanghai Pengxin's bid was unlikely.
"I believe it's very important that both ministers and the Overseas Investment Office fully understand what Justice [Forrie] Miller was saying last week and what that means now for the appropriate test for the law."
Mr Key said he read Justice Miller's decision as effectively tightening New Zealand's law on foreign purchases of farmland, legislation that was already among the toughest in the world.
However, Mr Key again said his Government was unlikely to appeal against Justice Miller's decision or change the law to clarify it but would make a final decision once it had received advice from Crown Law on the implications of the ruling.
Federated Farmers former dairy chairman Lachlan McKenzie yesterday detailed concerns held by "a silent majority" of dairy farmers about the Shanghai Pengxin purchase.
The land issue was "a red herring" and farmers were more concerned about Shanghai Pengxin's plans to establish a processing plant and sell the output on the Chinese market in competition with Fonterra.
"Fonterra and myself as a supplier of milk to Fonterra will have to supply them with milk under the Dairy Industry Restructuring Act. That's what is really spinning farmers," he said. "We will have to supply their manufacturing division with milk at a lower profit than if we processed and sold it overseas ourselves - that's what irks us."