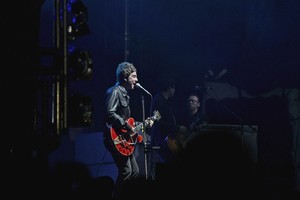 Ratepayer money was given to Big Day Out concert organisers just days after fears emerged it was heading for a financial flop.
Documents obtained by the Herald on Sunday show the $20,000 sponsorship was offered to Big Day Out promoter Campbell Smith by the council-controlled Auckland Tourism, Events and Economic Development Limited (ATEED). Smith asked for financial support in November and ATEED initially rejected the request.
But in an email on December 6, ATEED major events manager Jennah Wootten told Smith her organisation would give the event $20,000 on top of marketing and promotion assistance.
Wootten wrote that the decision was based on visitor and economic data Smith provided and on ATEED's belief the event enhanced the "vibrancy and liveability" of Auckland.
The $20,000 cash injection was made outside ATEED's usual sponsorship round. But the documents show the council body that manages Mt Smart Stadium, Regional Facilities Auckland, learned of ticket sales fears in late November.
Big Day Out backers hoped for a sales boost over the Christmas period, but fan numbers were down for the January 20 event and it made a major loss. Smith subsequently said the event would not return to Auckland.
Councillor George Wood was astounded to hear of the sponsorship: "I find it incredible that a private business is being sponsored by Auckland Council ratepayers." He said it was bizarre the Big Day Out received public money so close to the day itself. Wood said other event organisers took responsibility for ticketing problems and it was not ATEED's prerogative to prop up privately-run events.
Smith did not return calls.