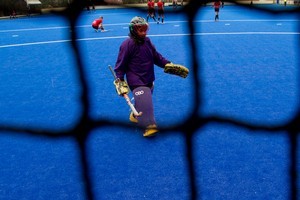 Diocesan School for Girls hockey players yesterday had their chance to test out their new $12 million turf - a surface good enough for the London Olympics.
The all-weather water-turf was officially opened with a match between the school's first XI and the Dio All Stars, which is made up of Old Girls and included current Black Sticks. The multi-purpose turf in the Epsom grounds of the all-girls Anglican school is thought to be the world's first water-based sports facility to be built on top of a car park.
The turf is one of the final stages of the school's 20-year project to upgrade and relocate parts of its 109-year-old campus, and is the same surface that will be used in the London Olympics.
Yesterday's Dio All Stars team included Black Sticks Katie Glynn, Sam Harrison and Ella Gunson as well as the Diocesan deputy principal, Chris Arthur.