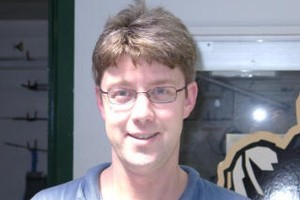 Christchurch man Geoffrey Skinner was crushed while backing his car out of his garage. Photo / supplied
The "tragic" death of a Christchurch man who died when he lost control of his car while backing out of his garage could have been avoided had he been wearing a seatbelt, the coroner says.
Geoffrey David Skinner, 41, the father of an infant son, died last September 25 in a freak accident, which happened when he went to pick up a takeaway.
Coroner Sue Johnson today released her findings into Mr Skinner's death, saying the radio technician died of asphyxia when he was crushed between a garage wall and his car.
Mr Skinner had left the house at about 6.45pm and his wife found him about 40 minutes later. Ms Johnson said microscopic examination of minute samples of Mr Skinner's brain showed "death was rapid".
Mr Skinner had opened his car door as he was reversing, perhaps to see how close he was to the garage entrance, Ms Johnson's report said.
"The evidence shows he was not wearing a seatbelt. Again this may have been to see better where he was going because there was very little room between the shelving unit and the normal path a vehicle would take entering or leaving the garage."
However, the open car door became entangled in a shelving unit, forcing the car to slide sideways and causing Mr Skinner to lose control. The car then hit another car parked in the garage.
"Mr Skinner then attempted to regain control of his car by continuing in reverse but steering it away from the parked car," the report said.
"However, by doing this, Mr Skinner was partially ejected sideways out from the driver's seat and the driver side of his car collided with the garage entrance wall. Mr Skinner was trapped and crushed between the garage entrance wall and the 'A' pillar of his car."
The police crash investigator had found the primary cause of the crash was Mr Skinner losing control when his open door hit the shelving unit.
Ms Johnson found the primary cause of Mr Skinner's fatal injuries to be the fact he was not wearing a seatbelt.
"Certainly, if the door had not been open, it would not have become entangled with the shelving unit and he would not have lost control," she said.
"But if he had been wearing a seatbelt, it is highly unlikely he would have been partially ejected, so would not have been trapped between car and wall, when the car collided with the garage entrance wall."
Ms Johnson concluded Mr Skinner's death was a "tragic accident" and extended her sympathy to his family.
- APNZ