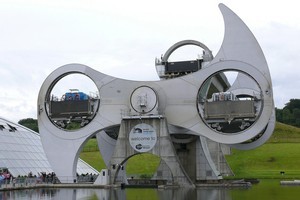 The Auckland SkyTower's lift has been named one of the world's impressive elevators by a popular international travel blog.
Ryan Murphy, of Budget Travel, compiled a list of the "12 elevators you need to see to believe" for CNN's website.
He described the Auckland landmark's 40-second ride to the tower's observation level as "magical".
"The glass-fronted elevators have views of the harbour and Auckland's modest cityscape, as well as the green countryside unfurling like a quilt in the far distance.
"If you can tear your eyes away from the view out the sides, look down through the glass floor for the extra thrill of seeing the ground speed away from you - and come rushing back towards you on the descent."
The SkyTower had some stiff competition.
Also included in the list was an elevator inside an aquarium, a rotating boat lift and Europe's highest exterior elevator.
The AquaDom resides in the lobby of Berlin's Radisson Blu Hotel and rises through the hollow centre of a cylindrical, 25m tall aquarium giving visitors a panorama of tropical sea life.
Meanwhile, the rocket-like Hammetschwand Lift in Lake Lucerne, Switzerland, "offers far more colorful vistas than anything you could find in the emptiness of outer space," Mr Murphy said.
The elevator was opened in 1905 and the 152m, 48-second ride is still the tallest outdoor lift in Europe.
Not to be out-done, the Falkirk Wheel in Falkirk, Scotland, is a lift for boats which links two canals whose "inconvenient, lock-ridden connection had been severed nearly 70 years earlier".