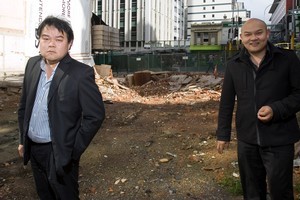 Auckland Council is having second thoughts about leaving decisions on a high-rise brothel's resource consent to non-elected officials.
Last month, the Herald reported that a non-notified approval was being sought for resource consents for a 15-storey building on the site of the now demolished historic Palace Hotel at 75 Victoria St.
The bid by the Chow Brothers was for a mix of activities on site including a brothel, Penthouse Club, hotel and offices.
It drew wide opposition including from Auckland's Catholic leader, Bishop Pat Dunn.
Heritage campaigner Alan Matson said the scale of the proposal had more than a minor effect on the formally recognised character of the adjacent 20th century buildings.
Despite the outrage, the council - under urgency - appointed an independent planning commissioner to assess whether the public should have a say on the application.
"The application has attracted media coverage and could be potentially contentious," officials advised committee chairwoman Noelene Raffills on December 20.
However, in a report to the hearings committee on Friday, February 10, officials said that after a legal opinion the commissioner had been asked not to go ahead.
Regional and local planning manager Penny Pirrit said the council policy allocated decision-making responsibility between elected members, independent commissioners and staff.
Because of the significance of the proposal and special circumstances, the committee might want to consider itself the question of whether the application should be notified. The committee would get a report in a fortnight outlining its options.
Councillor Cameron Brewer said there was a strong public expectation of a notified application.
Ms Pirrit said every application had to go through a standard assessment of whether it should be notified.
She said the committee was being asked only at this stage for guidance on notification - not decide whether to grant the consents. Before the Christmas holidays, staff had a statutory deadline of 20 working days to process the bid.
A staff report recommended a commissioner.
The report said commercial sex premises were lawful and fell within the range of commercial and entertainment activities permitted under the district plan.
In planning terms, the proposed development was conventional and straightforward and the district plan gave no opportunities for notification of the application, unless under special circumstances.