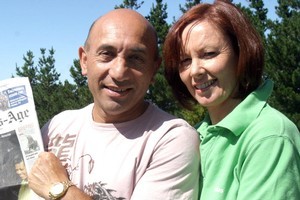 Carterton mayor Ron Mark isn't often lost for words - but when his partner Christine went down on one knee and proposed to him in front of "half the town", he was speechless.
Obviously sick of waiting for Mark to get his act together, Tracey took advantage of the leap year to turn the tables.
Traditionally a leap year - preferably the leap day, February 29 - is the one time when women are allowed to propose marriage.
Yesterday, Mark said his partner of seven years had arranged brunch with a group of friends at one of the town's pubs.
"She totally gobsmacked me," he said. "She made a speech about how we've been together seven years and we've been through some stuff - particularly the last month or so with the ballooning tragedy. A couple of things had indicated to her that she wanted to spend the rest of her life with me."
She had quietly set two tests. The first was how the couple handled a serious challenge together - and the hot air balloon tragedy that claimed 11 lives was a bigger tragedy than they could have imagined.
"Dealing with the whole thing, the accident, the victims' families, the community, the whole thing, she felt that that had been a huge test for us."
The second test was whether they could spend a whole day together in the garden and not argue - and they managed that too.
So Tracey bought a gold ring with a greenstone inset and took it to the brunch.
Mark said: "I was wanting to spend the rest of my life with Chris. I knew I'd get to that point, I guess she's just a lot more organised than I am. She beat me to the punch, and I guess a leap year only comes around once every four years so she had to grab that opportunity."
And the big question ... what was his response?
"You'd have to be a lunatic not to say yes - she's a fantastic person."