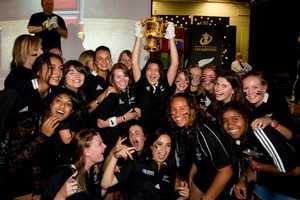 The Webb Ellis Cup is being toured around Auckland for the next week in a road trip to give thanks for the Rugby World Cup.
"We've got an ambition that the Webb Ellis Cup trophy spends as little time in our cabinet in Wellington as possible," said New Zealand Rugby Union chief executive Steve Tew.
"As nice as it is to walk into the building and see it there, it does more when it's out around the country."
The union hoped the tour would rekindle the excitement of the "magical six weeks" of the cup, he said.
"I think people are pretty excited about what happened last year.
"It's saying thank you to New Zealand for how good their support was - not only for the team but for the tournament in creating a stadium of four million."
The road trip, which will continue around the country, coincided with the start of the rugby season to encourage participation, he said.
"We don't take anything for granted. We work hard to get kids involved."
The road trip will also showcase New Zealand rugby's other prized trophies, including the Bledisloe Cup, the IRB Women's Rugby World Cup and the IRB Junior World Championship Trophy.
A range of "special" rugby guests will accompany the cup at the public events and school visits. The trophy will be at Massey Park, in Papakura, today and Bayer Growers Stadium in Pukekohe tomorrow.
Where to see it
Today
Massey Park, Papakura
10am-2pm
Tomorrow
Bayer Growers Stadium, Pukekohe
10am-2pm
Monday
Papatoetoe Recreation Grounds, Papatoetoe 3pm-6pm
Tuesday
The Cloud, Queens Wharf, Auckland
3pm-7pm
Next Saturday
Takapuna Primary School, Takapuna
10am-2pm