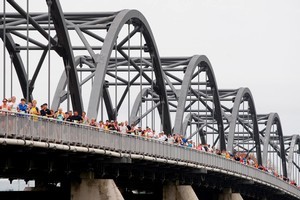 A 13-year-old boy is missing and another person has been taken to hospital following an incident in Huntly.
Emergency services are currently at an overbridge in Huntly, where it is believed two people have jumped into the Waikato river.
One has sustained moderate injuries and has been taken to Waikato Hospital. The 13-year-old is still missing. Northern ambulance communications said they were called to the site shortly after 5.30pm.
Police northern communications shift manager Inspector Ben Offner said a search and rescue operation was currently under way.
Boats and a helicopter have been deployed on the search, which will continue until dark tonight and resume in the morning.