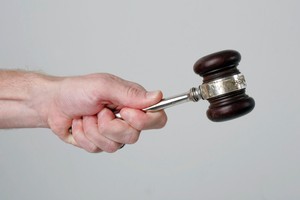 Personal banker Susan Bourton was accused of demonstrating a "degree of cunning" when she allegedly defrauded Westpac Bank and several of its customers of $1.4 million.
In a closing address at Bourton's trial in the Hamilton District Court yesterday, Crown prosecutor Jacinda Foster said the fraud was complex and spanned a decade.
"It took some planning, some careful consideration and required cunning," Ms Foster told the court.
Bourton, 36, a former business banking manager at Westpac Bank in Hamilton, pleaded guilty in November to 25 ofthe 81 fraud and dishonesty charges shefaces.
She is said to have defrauded one of her clients of up to $750,000 by creating fake accounts and home loans with large overdrafts from which she could draw money.
The Crown said Bourton created accounts in her name using different spellings, and in other people's names to access hundreds of thousands of dollars while she was employed at the bank between early 2005 and late 2006.
The court had already heard that client James Harris discovered what a mess his finances were in only after Bourton left the country and Westpac Bank tried to sell his home by mortgagee auction.
He thought he and his partner had only a $265,000 loan on the home they had bought together in River Rd.
But the Crown says Bourton made dozens of transactions across his four accounts, including creating two home loans totalling $314,000 in the name of Mr Harris' family trust.
The Crown claims Bourton also used $98,000 to settle her own purchase of a commercial property in Lake Rd, which almost fell through because she had insufficient funds.
Mr Harris and his partner laid a complaint with police in December 2007 and Bourton was arrested in 2009 when she returned from Ireland.
In November, Bourton's lawyer, John Watson, suggested Mr Harris was a close family friend of the Bourtons and that he was completely aware of what he was signing when he authorised a $100,000 home loan the Crown says he was tricked into approving.
Bourton is alleged to have gained the trust of clients whom she then targeted and the Crown says she used her connection to Ireland to hide her financial "misrepresentations".
"This is to make inquiries into her legitimacies more difficult."
The closing addresses in front of Judge Philip Connell are expected to end tomorrow. Mr Watson has yet to give his address.