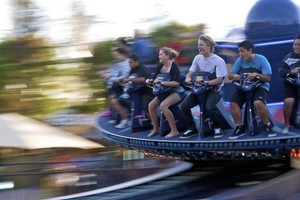 New Zealand Experience said first-half profit fell about 25 per cent as unfavourable weather and the lure of the Rugby World Cup dented visitor numbers to its Rainbow's End theme park.
Profit fell to about $750,000 in the six months ended Dec. 31, from $1.01 million in the same period a year earlier, it said in a statement on Wednesday. The company plans to release details of its first-half results on Feb. 23.
Visitors to the South Auckland theme park totalled 154,500 in the first half, down from 168,000 visitors in the same six months a year earlier. Much of the decline was in the month of December, typically a peak for visitors. Pre-Christmas private functions at the park were down from the strong December 2010 levels, the company said.
NZ Experience expects to recover some of the shortfall in first-half profitability during the remainder of the year, thanks to more favourable weather, maintenance of higher spend per visitor, more function activity and other initiatives, it said.
The company kept its full-year guidance unchanged in the range of $1.4 million to $1.6 million.
NZ Experience shares haven't traded today and were last at 40 cents, down from their October peak at 45 cents but up from as low as 31 cents last May.