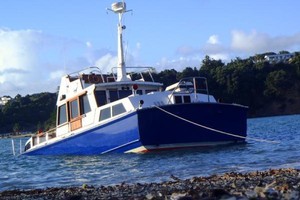 Defence Minister Jonathan Coleman says he wants some hard answers after a Navy vessel struck rocks in Northland this morning, and has described the incident as an "embarrassment''.
The 14m launch, VIP, took on water after hitting rocks off Tutukaka, Northland, about 7am.
All three crew members on board were safe and managed to get off the vessel.
The Navy said the damage was being assessed, and an investigation into the cause was underway.
Speaking to media this afternoon, Dr Coleman said there had clearly been some error in judgement.
"I don't want to pre-judge what's happened and I want to give the crew the benefit of a fair inquiry, but we want some hard answers,'' Dr Coleman said.
"It is an embarrassment for rthe Navy quite frankly, and I want clear answers on why this happened.''
- APNZ