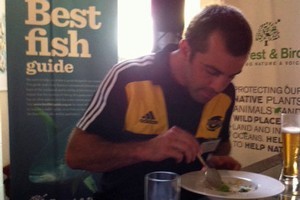 Celebrity chefs and a rugby star teamed up with Forest and Bird today to encourage New Zealanders to choose sustainably-fished seafood.
The 2012-2013 Best Fish Guide lists 78 seafood species commercially fished in New Zealand waters from best (anchovies and pilchards) to worst (porbeagle shark and orange roughy).
The guide was launched at well-known Wellington restaurant Logan Brown, where head chef and partner Shaun Clouston cooked up a storm aided by All Black Conrad Smith.
Smith admitted a fondness for terakihi - which made it into the top half of the list - and said fish was "pretty easy" to cook, as long as it was fresh.
"I do enjoy cooking when I have the time," he said.
Forest and Bird marine conservation advocate Katrina Subedar said the guide gave consumers the power to make a change by putting pressure on supermarkets to stock ecologically-sustainable seafood.
"The fishing industry would have to respond by using more sustainable fishing methods," Ms Subedar said.
"Kiwi consumers can also reduce pressure on the heavily fished species we are most concerned about by using the guide when they shop."
The guide is available online at www.bestfishguide.org.nz.
- APNZ