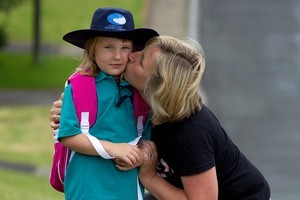 Sue Tyrrell is so worried about her daughter's first day at school that she will wait outside to make sure the child "doesn't escape".
Her daughter Katie, 5, is one of 750,000 students, including nearly 50,000 new entrants, who are expected to start school this week. And like most new entrants, Katie can't wait to start.
She is most looking forward to "going outside to play, writing and learning to read".
Her parents, on the other hand, are nervous about how Katie's first day will go and have taken time off work.
"I'm a bit apprehensive I guess; it's quite a huge step in her little life and mine I guess," said Mrs Tyrrell.
"She's been at kindy ... for the last four years - it's a very safe and enclosed environment and the schools are very different, a lot more open space and bigger and more kids and one teacher per room instead of three or four."
Mrs Tyrrell describes Katie as "quite the little adventurer" and is worried the horses in paddocks near Long Bay Primary School will be too tempting for her daughter to resist.
"If one takes her fancy, she'll be off to see it."
The family have warned her that she'll need to stay inside with the teacher, not wander off on her own.
"She was like, 'Yes mummy, yes mummy' but she sees something she likes and she's off and she'll probably take the other kids with her ... she'll lead them all astray!"
Mrs Tyrrell plans to spend the first morning parked outside the school just to be sure "she doesn't escape". And her husband Lee has also taken time off to keep an eye on his wife who "[I'm] assuming is going to be a nervous mess".
Meanwhile, new Education Minister Hekia Parata wants to wish students well for the upcoming year.
"I wish all students all the very best for 2012, I encourage them to work hard but have fun and make the most of every learning opportunity. Education is like a passport to a powerful life - it allows them to make choices about the kind of life they want to live ... I wish them well for themselves, for their families and for our country."