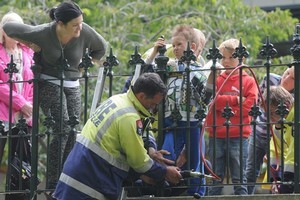 Dozens of waiting cruise ship passengers and an Occupy Dunedin protester or two applauded when firefighters freed a young boy whose leg was stuck in the railing of a fence in Dunedin's Octagon yesterday.
Seven-year-old Saxon Parry was looking over the Octagon, near the Robbie Burns statue, when he pushed his knee into a space in the metal railing.
Natalie Parry said her son panicked a bit when his leg would not budge, but calmed down after being offered hot chocolate and cake from the Octagon-based protesters on the area below him.
When a 20-minute attempt to free his knee proved unsuccessful, the Fire Service was called shortly after 3pm.
"He was really good - I wasn't. I thought they would have to get a saw ... you always imagine the worst. He had lodged it in there pretty hard," his mother said.
Station officer Stephen Clarke, of Dunedin Central Fire Station, said the easiest option was to undo some of the bolts, but only one of the three could be undone.
"If all else failed, we would have cut the bar off," he said.
However, at 3.20pm, a hydraulic-operated tool dubbed the "spreader" was used to push the iron bars just wide enough apart to free Saxon into the arms of his grateful mother.
The large crowd of onlookers, including cruise ship passengers waiting for buses back to Port Chalmers, applauded the successful rescue effort.
And the best news: Saxon was not injured.