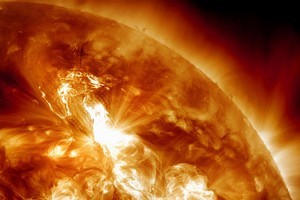 The massive solar storm bombarding Earth with radiation is unlikely to have much of an impact on aviation in New Zealand, the Civil Aviation Authority says.
Experts have warned radiation from the solar flares, the biggest flares in six years, could disrupt satellites and cause communication problems for aircraft flying in polar regions.
But the Civil Aviation Authority (CAA) today (Wed) said the solar flares this week would, at most, cause intermittent radio noise or outages in the high-frequency range.
However, that was an expected part of normal operations and aircraft had other communications systems, such as VHF radio and satellite communications.
The CAA said solar flares were unlikely to affect any other systems on aircraft.
Satellite outages would also be unlikely to affect airliners.
Aircraft use GPS systems for navigation but also rely on other systems such as ground-based navigation aids in domestic airspace.
While flying over oceans, transport aircraft would be able to use the inertial navigation systems they were all fitted with.
The CAA said if an unprecedented problem occurred, pilots would be warned via the usual notification system.
- APNZ