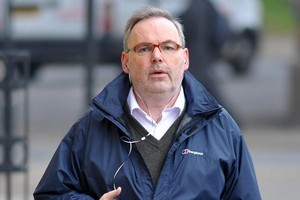 Malcom Webster was found guilty of murdering Briton Claire Morris in a staged car crash in 1994, and attempting to murder his second wife, Aucklander Felicity Drumm in New Zealand in 1999. Photo / supplied
A British man convicted of murdering his Scottish first wife and attempting to kill his New Zealand-born second wife in similar circumstances is appealing his sentence.
Malcolm Webster was sentenced in the High Court at Edinburgh in July to life in prison, with a 30-year non-parole period, for murdering Claire Morris in England in 1994 and attempting to murder New Zealander Felicity Drumm in Auckland five years later.
Ms Morris died after Webster drugged her and staged a car crash. He claimed more than $400,000 from her life insurance policy.
Ms Drumm, who was insured for more than $1.5 million, was pregnant when he drugged her and staged a car crash. She lived, and Webster fled with $140,000 from her bank account.
The BBC Scotland reported Webster had been granted leave to appeal his sentence and was seeking leave to appeal his conviction.
An initial bid on the latter had already been rejected, his lawyer told the BBC.
- APNZ